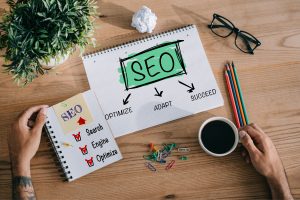 For a small business or a dental practice, having an online presence allows people searching for services in their community to find your website and hopefully, give you a call to schedule a visit or purchase your products or services. However, to ensure your website finds its way in the top spots on search engine results pages (SERPs), you need search engine optimization. In today's blog, MDPM Dental Marketing is talking about the importance of SEO, and explaining how we help small businesses craft an online marketing plan that meets their goals (and their budget)!
What is Search Engine Optimization?
First, let's talk about the search engines themselves. Sites like Google, Bing, and Yahoo want to attract users, which means they need to offer the results we're looking for. Over the years, they continue to perfect and adapt their algorithms and bots to crawl and index web content, looking for information about the company behind a website to ensure they're an authority on a subject and offering quality services. They then direct you to them, creating search results that pull relevant information so you can make a quick decision, in a matter of seconds, about whether you will visit this website and potentially, the company itself. Search engine optimization is a way of creating the quality content that these algorithms look for, so you climb in the rankings on a SERP and become more likely to attract new clients or customers in the process. Below, we're going to look at a few factors that go into the various plans we create for our clients:
Mobile First: Our approach to search engine optimization begins with the design and build. Now that most people look online using a smartphone or device, as opposed to a desktop or laptop, Google practices mobile-first indexing, in which websites with mobile versions are given higher spots on a SERP. We build multiple versions of your site to fit a variety of screen sizes on various devices. Each version organizes information in different ways to ensure the user has an easy time navigating your homepage and finding the information needed to understand your services and make an appointment. Of course, each website is custom-made for a unique appearance and visuals that reflect your approach to dentistry!
Organic Content: The content of each webpage will tell a search engine's bots whether you're an authority on a subject. One vital component is whether you regularly update your website with new and original information. In addition to content rich with organic keyword and link placement, and vital information that is reader friendly and simple to parse, we also help many of our clients maintain a blog. We can add new posts on a daily basis, or just a couple times a week, depending on what fits your needs. We also help by sharing your content on social media!
Local Schema: Local SEO allows people to find the services they need in their community or a nearby town. Which is why we build local schema into the back end of your website. Simply put, this information is what Google, Bing, Yahoo, and others pull when they create a result on a SERP. This includes your name, phone number, address, website, and even images of your office. The information ensures you look professional and also that a user has everything they need to contact you and gain a full understanding of the type of services you offer in a matter of seconds.
Social Media: An active social media presence is a boost for your overall rankings, a way to engage your current clients, and also a way to make connections and attract new business. However, a successful social media strategy is time consuming and as a business owner, you likely don't have time to dedicate to this. For many companies, our team may suggest posting blogs, fun and informative posts, and more. In fact, for our clients with a monthly SEO package, we offer a free social media kit that is delivered every month and provides 15 or more posts related to services, holidays and more. We also have our photo booth, so you can create your own fun content as well. You can post these yourselves, or we can do this for you. We create pages and content for Facebook, Instagram, Twitter, Yelp, Google My Business, and more! Staying in contact with your patients and clients is especially important now. Just because you can't open your doors, doesn't mean you can't maintain a connection with your patients. When those doors open again, you want them to remember you!
Do I Really Need a Large-Scale Strategy?
Does every business or practice need all the bells and whistles? While we believe that an attractive and mobile-friendly website is a must, you may not need a blog every day, or regular newsletters or a super robust social media package. That's why we offer three different packages. We want a strategy that works for your business model, your demographics, and more importantly, your budget. In fact, we've even been in the rare position where we've suggested clients downgrade a package, or even talked them out of our more robust packages. As a marketing company, we want to see your company grow and succeed, which means working alongside you and creating a plan for your office, not a one-size-fits-all generic SEO package, as you might find with companies offering template websites. If you have any questions about SEO in general, or about crafting a plan specifically for your own practice or small company, then contact our team today!
MDPM Dental Marketing Can Answer Your Questions About SEO
We understand how to help your practice or small business put your best forward online. At MDPM Dental Marketing, we understand that every practice is different, and we want to find the right options to help your practice grow while working within your budget. To start the process of creating your own marketing plan and online outreach, please call MDPM Dental Marketing today at 972-781-8861. Even though for many of us, our doors are currently closed, we still want to make sure that when stay-at-home regulations are lifted, people know to come to your office!