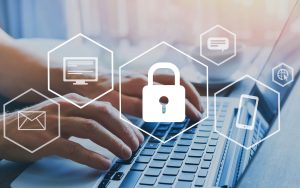 As a small business, your clients and customers depend on you to safeguard their data, and that includes passwords and even payment information. Losing this valuable data to a breach or attack from common cyber threats hurts your reputation, and in turn, hurts your company's ability to grow and attract new clientele. Fortunately, at MDPM Small Business Marketing, our team knows how to build in defenses to help protect valuable data and important information when we create a custom website.
Defending Your Data Against Cyber Threats
Your clients and customers will use your homepage to shop for the products and services you're offering. In fact, we often build product pages to show off your merchandise with payment systems built into the pages to process payments. This means valuable information is exchanging hands! In addition, you have the passwords and logins on your website and social media pages that could eventually be exposed and compromised. There are many avenues in which certain parties could find a vulnerability and attack your website to harvest data, which is why MDPM Small Business Marketing uses a number of defenses in the front and back-end of your website.
WordPress
First, we build our client's sites in WordPress. We like this platform for a number of reasons, including the ability to build custom designs that match our client's vision. However, WordPress is also very secure. The core of the platform is maintained by a large community, and its overwhelming popularity means that bugs and vulnerabilities will often be found and addressed quickly. Diligence is key for protecting companies from cyber threats, and using platforms like WordPress provides this extra layer of security without sacrificing quality or creativity when it comes to your content's design and function.
Wordfence
Our team also employs front-end protection with Wordfence, a plugin designed specifically to work with WordPress. The plugin uses an enhanced endpoint firewall and malware scanner to defend against login breaches, plugin flagging and harmful IP addresses. These methods of compromising your website's defenses steal valuable information that could compromise the online safety of your customers and your business itself. The program runs at the server, providing greater security than cloud firewalls which have been known to experience leaks since they regularly need to break end-to-end encryption, something WordFence never needs to do. You enjoy increased protection without worrying about interruptions in traffic and user experience!
Cloudflare SSL and DDoS
For the back-end of your site, we use Cloudflare SSL and Cloudflare DDoS for IP flagging, blacklisting and defenses against DDoS attacks. Each option provides a new avenue of defense for your content:
SSL – The Secure Socket Layer (SSL) helps create an encrypted link between the web server and browser. The link ensures the transferred data between a user and your site stays private. In addition to encrypting all traffic, this layer has been shown to improve loading speeds and also provide SEO benefits as well, which are key to good user experience and of course, better rankings on a search engine results page (SERP).
DDoS – This option provides protection against Denial of Service (DDoS) attacks on multiple fronts. Not only does it protect your web content against bad traffic, but it also provides a path for good traffic to ensure user experience on your webpages is never interrupted, so people can still see what your company is offering, or even order products or contact you.
Keeper Security
Now that we've talked about how we defend your content on your website, what about the security measures on our end? Since we're building and managing web content for our clients, including everything from the main site to associated social media pages and their passwords, we have a lot of valuable information, and we need to keep all of it in one secure location to ensure our designers and builders have easy and quick access to all the logins needed to access your content in a convenient timeframe.
To do this, we employ Keeper Security. This password storage program encrypts the data we store and ensures no one but our team gains access to them. The platform is designed to create randomized passwords for your webpages and secure these passwords and logins in a vault, all while meeting compliance and accessibility guidelines. We ensure the privacy of our clients, while also improving productivity on our end so you obtain the custom content you want in a timeframe that works for you.
As a small business, you need to be able to protect your clients, and we want to make sure you enjoy peace of mind knowing that your sensitive information and data is safe and protected on our end. If you have any questions about online security for businesses of all sizes, or about how we create and maintain customized web content and social media pages for our clients, then please contact our team today. We want to help you implement a personalized online marketing plan that helps your business grow while matching your vision and fitting within your budget. We'd love to hear from you, so if you would like to talk about options for your business, then contact us to schedule your initial interview.
MDPM Small Business Wants to Keep Your Data Safe
Improved online security protects both you and your clients and can help your online reputation and marketing. At MDPM Small Business Marketing, we build in defenses in the back and front-end of your site and keep the information we have to build and maintain your web content safe and secure. To learn more about protecting your company from harmful traffic, leaks and breaches, then call MDPM Small Business Marketing at 214-531-3006. While many small businesses are currently closed or operating at a limited capacity, investing in the defenses of your web content is always a good idea, and we will help find a plan that fits with your budget!