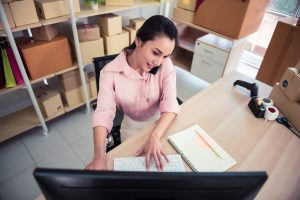 As a small business, you have a lot of hard work ahead of you. After all, you often have to compete with larger businesses with bigger advertising budgets, and you have to find ways to get the word out about your business. In addition, when people look you up online, you need to make sure what you have represents you (and looks professional). The good news? A lot of these goals can be accomplished with a great custom website! In today's blog, MDPM Small Business Marketing is looking at the benefits of a custom build and explaining the step-by-step process of crafting one for our clients.
The Benefits of a Custom Build
Have you ever looked at websites for similar companies in your area offering your same products/services and thought they all looked kind of the same? This is common because many companies provide templated options that save money and offer quick results. After all, if you follow a template you just plug in a few images and some copy and call it a day. While tempting, you should know the downsides. One, your homepage is going to look like a lot of others. Two, these websites are not built with search engine optimization (SEO) in mind, or with minimal SEO effort at best. Three, you won't be receiving help with logo creation, social media outreach, or other components of a successful SEO strategy.
Now, with a custom option, we build local schema and other SEO rich components into the back and front-end of your site. We also implement a mobile-first approach, which means your pages look great on any device. The design and layout will be built to your specifications, ensuring you have a final product that reflects your aesthetic and your company. We also create one-page builds and product pages too, which make scrolling your site, viewing your merchandise, and making an order a much simpler process. Our goal is to not only provide a product that looks great and elevates your product, but also helps improve where you land on a search engine results page (SERP).
The Initial Prep
Now let's look at what the process involves. First, we're going to interview you so that each member of the team working on your website knows exactly what you're looking for and what you expect in the function and layout. We then start gathering files and images and prepping for the build. Our team crafts the global aspects and styles of your pages, so we ensure that all of your custom pages look great and uniform. We activate any necessary plugins, create and import advanced custom fields (which is how we display company details and social media icons), set up your website's domain, and import fonts and font weights. This process means the final layout and color scheme of each page is ready for the build and copy!
Building Your Custom Small Business Website
We mentioned the mobile-first approach above. This means we start building your site from top-to-bottom on 400px, the size of smartphone screens. Next, we size up and adjust the layout for larger sized screens, such as tablets. We continue this process, rebuilding from top-to-bottom and adjusting the layout of information and design details until we reach the full width of a large desktop screen, 1920px. We want to make sure every detail looks great on multiple screen sizes, so we ensure no matter what device is being used to browse your pages, users can find the information they need and, hopefully, feel confident in using your services or products.
Uploading Your Copy
Now that the design and structure are in place, we need to add the copy. Our team of copywriters will create the blurbs and information on your site based on the detailed interviews and product information you've provided. They will match the tone and style of your company so everything feels like it came from you and your team! We load the copy, set up the navigation, and create organic links between internal pages. We fill out special sections and upload any assets, like merchandise images, forms, map platforms, social media, reviews, etc.
Quality Checks
Now we perform quality checks. On our end, our team will sweep each page to correct missing links, copy errors, or other issues, performing quality checks on internal and external components. We then correct them. You will also be looking at it as well to make sure everything meets your specifications. Of course, changes can be made at this point to improve function and style. We want to make sure you're completely satisfied with the final product!
Time to Celebrate!
Now, the final step, and our personal favorite. We celebrate your new custom small business website going live! Now, the world, and especially your community, will be able to see the products and services you're providing. We have SEO packages that could offer blogging, social media strategies, and other SEO options to help your position on a SERP, and ensure people looking for your services have no problem finding you. We're always eager to help a small business succeed and to make sure your online marketing strategies fit within in your budget. If you have any questions, or if you would like to schedule an interview, then please contact our team today!
MDPM Small Business Provides Custom Small Business Website Builds
Not only do custom webpages help you make a great first impression on potential customers or investors, but you also have a chance to improve your SEO in the process. At MDPM Small Business Marketing, our team works hard to ensure you obtain a product you feel proud of, one that helps your business grows and reflects your business' goals and style. To learn more about obtaining a custom website, then call MDPM Small Business Marketing at 214-531-3006. Now that businesses across the country are starting to open their doors, it is the perfect time to overhaul your web presence, and that starts with a custom homepage that tells people everything they need to know about your business!