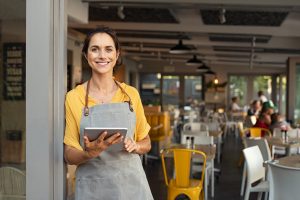 Most small business owners understand the importance of search engine optimization (SEO) and social media for reaching an audience and helping your business grow. While setting up a Facebook page or Instagram account is important, even more vital is setting up and managing an active Google My Business (GMB) page. In today's blog, MDPM Small Business explains the many ways having a GMB page can help with reputation management, and the special services we provide to ensure you make the most of your page!
GMB and Reputation Management
When you search for a local business on Google, what appears on the search engine results page (SERP)? You will likely see a listing with important information, such as where the company is located, what they offer, hours of operation, and even images. There will also be reviews and links to the website. A lot of these details will be pulled not only from the local schema of your website but also your Google My Business page. Having a page helps improve your reputation management, and as we will discuss further on, it makes it more likely that the search engine will direct users to your small business.
What Should Be in Your Listing?
You want to make a complete listing with any and all relevant information available. After all, when people search for a company similar to yours or for merchandise you offer, they won't be looking for you by name. Instead, they will do a general search with relevant keywords. The details in your listing provide important keywords regarding your location and services, so Google can pull these to create your listing. You should include your physical address, as well as your URL. Be sure to include accurate categories and attributes, phone numbers, and accurate hours of operation. Most importantly, make sure you always adjust your hours to reflect your actual opening times. Holidays, and especially a pandemic, can often alter when a location is open, so your information should be accurate! Be sure to include quality photos, too.
Reviews are very important and equally as important is how you respond to them. If you have negative reviews, be sure to respond in a positive and professional manner. Also, celebrate your positive ones with a thank you. Be sure to encourage people to leave reviews as well, as these are a major factor in reputation management and SEO. Remember, accuracy is key because these details will be incorporated into Maps and Searches!
Is There an SEO Connection?
Yes! Google's algorithms take a lot of factors into account when they sort results on a SERP. After all, their success depends on the ability to direct people to the best results for their queries. When someone performs a local search for a business like yours, Google won't necessarily show the closest one first, but instead the one they feel will provide the best experience in your area. Rankings will depend on relevance, distance, and prominence.
Relevance means how likely it is to offer what a person is looking for. You should have plenty of information in your listing for Google to use. For example, are you an authentic Mexican restaurant, or a Tex-Mex one? Do you sell custom shirts or clothing from local venders? Having these details means the search engines can better direct people to you. Distance is also a factor, so be sure you include accurate information about your location that Google can use in Maps.
Finally, prominence refers to how familiar people in your area are with a business, and for a small business, having a prominent reputation online is very important. Algorithms take a number of factors into account when assessing prominence, and reviews on pages like GMB are definitely major contributions to this, so having an active page and garnering reviews helps to maintain prominence.
All of these factors can be addressed for your company with an online marketing plan that includes managing your reputation with an active Google My Business listing.
MDPM Small Business can Help!
How do we help your company with your Google My Business page? First, if you already have one, we will claim it and begin the process of cleaning and updating it. If not, we can create one for you. Once we do, we first make sure your address, phone numbers, URL, and hours of operation are all accurate. We will also update them for holidays as needed. To improve aesthetics, we will create custom banners for your page that includes your logo and style. To help improve overall visibility, we will post blogs and updates to your page, and offer consultation on garnering good reviews and responding to any negative ones. To address your small business' unique needs, our team can also create events through your page to showcase any products or merchandise, or even help you run special offers and deals with custom graphics.
Our team wants to help you put your best foot forward online and to help with reputation management, we're ready to claim and maintain your GMB page. You can rest assured that even though we're managing your page, you still own all of your content! If you have any questions about social media, reviews, SEO, or any other online marketing strategies your company may benefit from, then please contact our team today.
MDPM Small Business Provides Reputation Management for Small Businesses
Creating a page and managing it is essential for SEO and for reputation online. These factors also help bring attention to your business or your products by attracting investors, customers, or clients to help you continue to grow. At MDPM Small Business Marketing, we know how to help you manage your online content, and also how to foster positive interactions online. To learn more about improving your website's function and your company's SEO with a GMB page, then call MDPM Small Business Marketing at 214-531-3006. Many states have opened, or are in the process of opening, which means now is a great time to start implementing online marketing and reputation management to ensure you can be easily discovered and reach your audience!