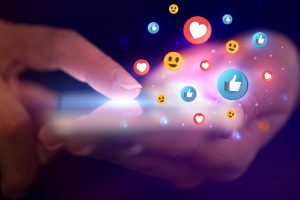 These are uncertain times, as the spread of COVID-19 means that while some states are opening and returning to normalcy, others may close again. As a small business owner, your margins are thinner than ever and the pressure from the pandemic means attracting new clients and customers is essential for your continued success. Fortunately, MDPM Small Business Marketing knows how to implement social media strategies that not only drive clicks to your website but also help attract reviews and hopefully, purchases. In today's blog, we're going to look at how social media content is the key to reviews and how you should not only attract them but respond to them as well.
Social Media and Reviews
When people look for a product or local service, they don't just check out the website they find in a Google search. They also look at that company's Facebook pages and other social accounts. Facebook is also commonly viewed because it contains reviews. Hearing what previous customers have to say about a small business on Facebook and Google My Business pages will be a major factor in giving someone that final push to make an online order or pick up something curbside from your restaurant. Our team understands this, and we also understand that organic testimonials from people (meaning you can't have your employees write up a bunch of fake ones, that actually has a negative impact) are crucial for search engine optimization (SEO) too, helping you gain higher rankings on a search engine results page (SERP). We will help you implement strategies to gain reviews from your clients and customers. We also know how to respond to both positive and negative ones, helping you maintain a professional appearance and making even a negative testimonial a chance to showcase your dedication to your customers!
Ensuring Consistent Content
Everything starts with an active social media presence, which helps drive people to your website and vice versa. When we create or update your pages, we will first make sure that all of the key information is consistent between your website and your social networking accounts. Looking online gives people innumerable local results to sort through. The second you put up a minor roadblock in the form of inconsistent phone numbers and office hours, the more likely someone will just give up and move onto the next service.
We want to make sure your address, phone numbers, hours of operation (and make sure these are updated to reflect changes during the holidays), and URLs are the same across multiple pages and accounts. We also want to make sure that any information shared on these accounts contain relevant keywords to the services you offer, which we help with blogs and other original posts to drive people to your homepage and your Facebook accounts!
Creating Your Brand
Our team also understands that the key to maintaining an active online presence, one that encourages people to leave behind their thoughts and interact with you, is maintaining a solid brand. After all, you want to make sure accounts and pages look similar, making use of the logos, taglines, color schemes, and images found on your site. A brand makes your content easy to find and gives your audience an instant idea of what products and merchandise you have. Our designers can also work with you to update your brand, creating brand new logos that catch people's eyes, and upgrading your product pages on your website. We will then of course make sure these new colors and logos are prominent on everything from your homepage to your Facebook page. Ultimately, this helps you attract the audience (and potential customers) you need!
Finding Your Audience
Creating and curating original content for your social networking accounts means that when people Google similar products and services to yours, they are likely to be directed to your pages or website. This means you need to ensure the content you share is geared towards this audience. As we touched on briefly above, we often assist in this with blogs. Regular blog posts help SEO by providing a steady stream of new content for Google's bots to crawl and index. This content is also created with organic keywords regarding what your company offers. We then share these across multiple social media platforms, helping you climb to higher spots on a SERP and making your small business more likely to be discovered. We know that standing out on a Facebook or Twitter feed is difficult, so we make sure your content contains strong visual images and eye-catching titles, while also implementing metadata in posts so people know what to expect from your blog posts and content in as few words as possible. A solid brand, quality content, and organic reviews are all crucial for helping your small business grow, and our team is ready to help you through each step of the process. If you have any questions about implementing a solid online marketing plan tailored specifically to your company or regarding updates to your site design or logo, then please contact our team today. Times are tough, but that doesn't have to stand between you and success!
MDPM Small Business wants to Boost Growth with Social Media  
We want to make sure your webpages are not only inviting and professional but that they work in tandem with your social network content to encourage future business and attract organic reviews. At MDPM Small Business Marketing, we know how to help small companies manage their online content. To learn more about the process of maintaining a successful online marketing plan and updating your current site and social accounts, then call MDPM Small Business Marketing at 214-531-3006. As many avoid physical stores and turn to look online for goods and services, this means having a solid online marketing and SEO plan is more valuable than ever. Even with sporadic shut-downs and uncertainty, there is still room for your company to grow and thrive, and we want to help.