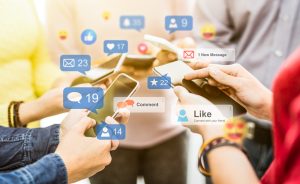 Since the start of the pandemic, small businesses have been under tremendous and unprecedented strain. Operating on razor-thin margins already, now many have been forced to contend with a global crisis! How does a small enterprise continue to operate and communicate with their clients and customers? With a solid social media strategy and active online presence, a small company has the opportunity to talk to people, keep them updated, and even improve search engine optimization (SEO) along the way. In today's blog, MDPM Small Business Marketing will explain how we use our social media, including a fun monthly kit, to allow you to stay active and engage customers online!
How Social Media Improves SEO
Google and other search engines like Bing and Yahoo take a number of different factors into account when they decide where a company lands on a search engine results page (SERP). As a small company, when someone looks for a similar organization in their community, you want to be one of the first results on the first page. Along with responsive web design and quality content that incorporates local SEO, you also benefit from social media. Search engines notice when someone has an active page that encourages likes, comments, and shares and factors this into rankings. After all, they want to direct people to resources that address their inquiries and provide quality services, and an active presence on sites like Facebook, Twitter, Instagram, LinkedIn, and Google My Business (GMB) show a willingness to engage with customers and clients. They will reward that willingness!
Customizing Your Pages
If you already have an account on one or more social networking sites then we can update them to ensure your profile pictures, cover photos, and banners are customized to your website and match the aesthetic. We even create custom banners for sites like Yelp and LinkedIn, too. If you have any important last-minute edits, such as changes to operating hours or image updates, we can provide those too in a timely manner. We also make sure the content you share is eye-catching and interesting. When you share a blog, a fun post, or important information about updates to your merchandise or products, you need to compete with a feed filled with other updates from friends, families, and businesses someone has liked or followed. We know how to grab attention; you need photos that draw the eye and a status that piques their interest. Our team knows how to help with this and will do so as we manage your pages.
Our Social Media Kit
For our dental clients, we've also been offering a social media kit. The kit comes each month and includes 15 posts related to upcoming holidays and events, fun tips for your small businesses, and even jokes and quotes. We also include images for when you're out of the office or want to encourage reviews. These can be customized and altered as needed, and while some are set to specific days, you can share most whenever you prefer. We have created them to be shared on multiple platforms, including Facebook, Twitter, and Instagram. Some clients schedule them day-by-day, others all at once to post throughout the month. Many people have us manage the process for them. For clients with a monthly SEO package, the kit is free and also includes a free monthly photo booth kit so you and your team can take fun images to share online. If you don't have a monthly SEO package, then we can offer the entire kit for just $99. We can help you create and share fun and unique content throughout the month and would love to talk to you about possible options!
Reaching Your Audience
As a small company, you have a good idea of who your clientele is and about your products and services that appeal to them. This information is key to a successful social networking strategy! Pay attention to what posts gain the most likes and comments and on what days of the week. For example, many people have noticed activity for various platforms peak on specific times of the day on certain days, and tailor posting to reflect this. If you're receiving blogs from our team, we can ensure they're tailored to your organization and that they speak to your potential customers. We also take this into account when we share them on your social networking platforms. We're not only letting the world know what you do and create but also managing your reputation at the same time!
Managing Your Posts
Some of our clients prefer to handle their social content themselves, and they're welcome to! However, we always want to remind them that we have experience in helping businesses of all kinds showcase their products and services in the best light when we manage their posts. Across multiple platforms, and with everything from videos and photos to polls and special offers, we're here to help your company continue to succeed. Smaller companies right now are bearing the brunt of the pandemic and struggling to keep their lights on. If you have any questions about our services, and whether they're right for you, please don't hesitate to give us a call. We want to help create a plan that fits within your budget.
MDPM Small Business Marketing Manages Your Content
We want to make share everything you share online, whether on your social networks or website, reaches your audience, and helps improve your SEO. At MDPM Small Business Marketing, we have experience in managing social networks for our clients and helping companies both big and small. To learn more about helping your company with social network strategies, then call MDPM Small Business Marketing at 214-531-3006. Even if you have to close the doors to your physical location, that doesn't mean the door is closed on your ability to share your merchandise and gain sales online. Let us help your company continue to grow and thrive, even in uncertain times.