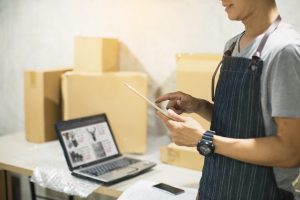 The past year-and-a-half has been tough for small businesses. When the pandemic started, people quit going out as much, and many companies suffered. However, now that more and more people are receiving vaccinations, normal is returning for much of the country. Which means you need to make sure people in your community know about your small business and the services/products you provide. To get the word out, you need a marketing strategy that includes a custom small business website, and MDPM Small Business Marketing is here to help!
How Original Content Helps SEO
Where do you go to find out about a local business, or look for services in your community? You sure don't pick up a phonebook. Instead, you turn to Google. The search engine's algorithms know how to sort through millions of results to bring you what you're looking for. After all, how often do we ever go to a second page, or even look beyond the first couple of results?
Google does this by using bots to crawl and index the content of a webpage. When you search, they direct you to pages with original content, updated designs, and a mobile-first function, as these are most likely to address a user's query. Which means for your small business, a well-crafted site that employs original content could help new customers and clients discover your business!
Building Your Custom Website
We design and build your website based on interviews with you, creating a sleek and intuitive UX that is mobile-first and responsive, so it looks great and is easy to navigate on a variety of screen sizes and devices. In fact, we build multiple versions from the ground up to make sure your content is accessible on everything from smartphones and tables, to laptops and desktops. Doing so helps improve SEO!
Original Copy
We also avoid duplicated or template copy, as this could impact how high you end up on a search engine results page (SERP). Our copywriters will craft content that reflects your voice and appeals to your clientele. With blogs, we add a steady stream of new content for Google's bots to crawl and index, all original and well-written, that will help your SERP positions.
Our Other Content Strategies
We believe in providing a unique marketing strategy for small companies, and in addition to a new site and blog, could also discuss newsletters, eblasts, social media content, and more!
Talk to MDPM Small Business About Your Websites Needs!
The team at MDPM Small Business Marketing in Dallas, TX is ready to create a new site and customized marketing strategies to help your business continue to grow and thrive. Contact our office at (214) 531-3006 for more details, or to schedule your first interview!