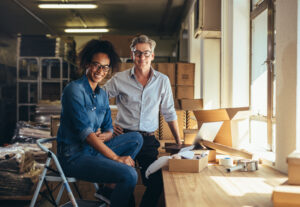 When the pandemic first started, many small businesses moved their market focus online, so people could order and pay without even leaving their house. Even as the pandemic wanes, these innovations are here to stay. Which is why MDPM Small Business Marketing continues to offer a host of interactive features that we could incorporate into your current website, or add as we update your outdated site!
Creating Engaging Features
When people visit your website, we want you to make a great impression with modern and intuitive design. A good use experience (UX) is often essential when people decide whether to order your products or services. By creating engaging features, we help people stay on your pages longer, and make ordering your products or finding out about your company much simpler. We also make sure your logo and branding is consistent across your social media, so no matter how people find you, they can find their way to your webpages to make appointments, order products, and more.
A Variety of Options
Let's look at a few of the engaging products we're now offering. We could include options to make inquiries or appointments online, and even add a payment portal to order products or pay for services. We have paperless signature forms that can be incorporated, as well as notices and pop-up options. To help you stay connected to your clients or customers, we could add a live chat option, an email sign up list, and links to your social media pages too. This makes your website more convenient and hands-free!
Want to Get Started?
If you're interested in incorporating any of these into your website, then let us know today! We would love to start your website overhaul now, so you're ready to start 2022 with better UX and integrated features. We can also work with your current providers to ensure you're actually using all the features and tools that you're paying for. To get started with a free assessment of your online presence, then give us a call at the number below. We look forward to working with you, and helping your small business thrive in 2022 with exciting new components that fit within your budget.
Talk to MDPM Small Business Marketing Today About Your Website
The team at MDPM Small Business Marketing in Dallas, TX wants to help improve your company's website with an overhaul or new build, making a great first impression on your potential clients and customers. Contact our office at (214) 531-3006 for more details, or to schedule your first interview. Just because you're a small business, doesn't mean you shouldn't have access to quality online marketing and SEO, or even interactive features on your pages!