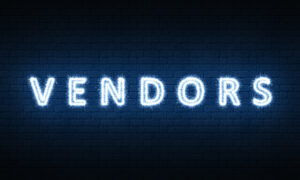 As a small business, you don't have a lot of room in your budget, and every dollar counts. Which is why MDPM Small Business Marketing recommends taking this time to assess your vendors, and make sure you're using them properly and getting the most from extra services you're paying for! We can help you with this process, and can also offer a number of extra services and interactive features for your company's website.
Taking a Look at Your Vendors
The end of the year is a time to look back on the previous 12 months and make some decisions. What will stay the same in 2022, and what will need to be adjusted? Many small businesses will be making major changes to your in-person and online stores, and their marketing. Any company will have a lot of moving parts and that means working with outside vendors to handle them. However, you could be so busy you don't realize that many of them are not useful to your company anymore, or that you're paying for a service you're not utilizing to its fullest! Which is why taking a close look at your vendor is so important.
We Can Help Assess Them
If you're too busy to handle this process yourself, then talk to our team! We can talk to your vendors and ensure you're fully utilizing the tools and the resources you're currently paying for. You then have a chance to decide whether to continue working with these providers, put that money elsewhere in your business, or find a new one. You should be gaining as much as possible from every dollar spent, and we want to help ensure this is the case.
Our Extra Services
We would also like to remind you that our team also provides a number of extras that you could utilize for your office. You may not have to work with additional vendors! For example, we have social media strategies and can help you manage your accounts and stay connected with customers or clients. In addition to ensuring your website contains original, SEO-rich content and provides good UX (user experience), we can incorporate interactive features too. For example, we can set up inquiry and appointment requests, payment portals, paperless signature forms, and pop-ups for important notices, such as COVID-19 protocols. We can also help connect you to your clients through an email sign up list and a live chat function. Feel free to call us to learn more!
Talk to MDPM Small Business Marketing Today
The team at MDPM Small Business Marketing in Dallas, TX is ready to help you assess your website extras and providers, prepping your business for 2022. Contact our office at (214) 531-3006 for more details, or to schedule your first interview.